1. Pyramid Bracelets: I have suddenly become obsessed with these little treasures for stacking and dressing up my arm parties. As seen in this gorgeous picture, the gorgeous white and gold bracelet on the left adds a playful but classy look to the mix. Forever 21 has a great selection of on-trend bracelets and for such a low price I am dying to get over to the mall so I can stock up!
2. Revlon Just Bitten Kissable Balm Stains: I am a sucker for cute packaging and colors so when I saw these I was in for it. For such a long time now I have loved the concept of the Clinique Chubby Stick but I never got around to purchasing one. So when these came out I couldn't wait to try out a cheaper alternative. Again, the packaging is super cute and great for quick pops of color throughout the day. I wanted my first one to be one that would be great as a daily staple so I got the shade Honey (third over from the left in the picture). I really like it and now I want to get some more.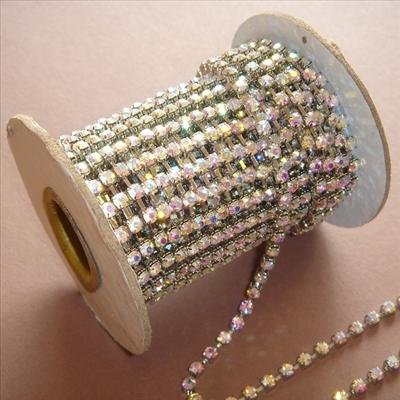 3. Rhinestone Chain: I found myself wanting to be very crafty lately. I am always frustrated though because I never have all the supplies I need. My goal within the next few weeks is to track down some rhinestone chain. I scavenged through the entire jewelry section of my Michael's for some and it was nowhere to be found. I am thinking about just ordering some cheap of eBay unless someone can locate this little guy in my craft store for me. I want to do some cool DIYs and what project doesn't need a little sparkle!
These are just a few things I have been lusting over this week. Was there something you guys couldn't get off your mind? And, honestly, if someone finds me some rhinestone chain I will love you forever!! Anyways, hope your weekend is off the a great start. Don't forget to check out my last post which was a super cool DIY for
Floral Sunglasses
!
XOXO Meghan